Schacht Wolf Pup Loom
Products > Weaving Looms and Accessories > Schacht Looms > Schacht Wolf Pup Loom
Schacht Wolf Pup Loom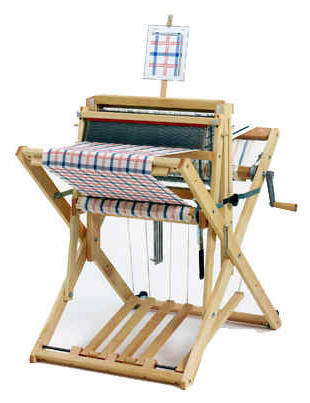 The Schacht Wolf Pup loom is a direct tie-up 4-shaft loom with 4 treadles. Here is a little loom you can easily take anywhere with you. The 18" weaving width is ideal for workshops and for all those other narrow projects. In the process of developing this product, Schacht also came up with a couple of nifty enhancements like the automatic fold-up lock button and the Treadle Tracker, a "mini clipboard" for holding your threading and treadling diagrams.
The simple and elegant direct tie-up system was designed by F.C. Wood of Waterford, New York, who started building the Dorset Loom in 1956. The Wolf Pup folds up to a depth of only 16 inches. The Schacht Wolf Pup weighs just 38 pounds. Complete with handy Treadle Tracker so treadling your draft is easy! Please choose your reed below: 8, 10, 12 or 15 dent.
FREE Shipping!
Please Choose
ONE
reed when purchasing a Schacht Wolf Pup Loom.
You may also like the following: