Schacht Spinning Wheel Accessories
Products > Spinning > Spinning Wheels > Spinning Supplies > Schacht Spinning Supplies
Schacht Bobbins for Matchless, Ladybug and Sidekick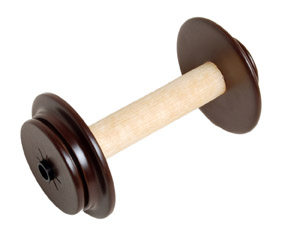 All regular Schacht bobbins fit all Schacht spinning wheels, but a high speed bobbin is required if you are using high speed and super high speed whorls when spinning in double drive.
The Schacht Sidekick uses Travel Bobbins (shown to left), but the regular, all wood bobbins (shown to far left) will fit as well. If you have a Bulky flyer on your wheel you can use your regular bobbins, but the Schacht bulky bobbins can hold a lot more yarn. All Schacht bulky bobbins require a bulky flyer.
Schacht Whorls for Matchless, Ladybug & Sidekick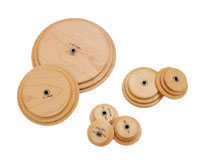 The type of fiber you are spinning and the kind of yarn you want to produce will determine which flyer whorl to use. Choosing a compatible whorl for the task at hand will go a long way in helping you comfortably create the yarn you want.
Your spinning wheel comes with two flyer whorls: a Medium Speed Whorl with 9:1 and 11:1 ratios and a Fast Speed Whorl with 13:1 and 15 1/2:1 ratios. We offer five others, which are specified in the chart below. The general rules to remember are: the larger (slower) the whorl, the thicker the yarn, the less the twist, and the greater the take-up. It is also important to remember that, in the double drive mode, depending on how much or how little tension you put on the drive band, you can increase or decrease the take up. In the Scotch Tension mode the amount of take-up is controlled by the amount of tension you put on the brake spring & cord. The greater the tension, the greater the take-up.
Schacht Spinning Wheel Whorl Ratio Chart
Extra Slow Speed 4:1 & 4 1/2:1
Slow Speed 6:1 & 7 1/2:1

*
Medium Speed 9:1 & 11:1

*
Fast Speed 13:1 &15 1/2:1

**
High Speed 17 1/2:1 &19 1/2:1


**

Super High Speed 18 1/2:1 & 22:1


*
Comes With Wheel


**

We Recommend using the high speed bobbin with these whorls.
Schacht Tensioned Lazy Kate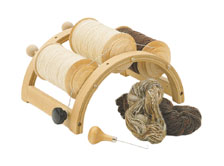 Schacht took physics to heart when they designed this Lazy Kate. It's built low to the ground (no tipping over during plying), has a unique tensioning feature (no more bobbin back-spinning during plying), and accommodates up to three bobbins. It can be easily disassembled, making it easy to transport or pack -- no tools required! The Schacht Lazy Kate can be used with other spinning wheel bobbins up to 7" in length. Bobbins sold separately.

Schacht Spinning Wheel Cart for Matchless Spinning Wheel
This is the neatest way to travel with your Schacht Matchless wheel. Schacht used special hardware in the spinning wheel legs for quick attachment and removal of rubber wheels. A wooden block inserted under the tension
You may also like the following: