Schacht Sidekick Spinning Wheel
Products > Spinning Wheels > Schacht Spinning Wheels > Schacht Sidekick Spinning Wheel
Schacht Sidekick Spinning Wheel
The Sidekick is Schacht's newest spinning wheel model. It has an unusual design with the large drive wheel facing the spinner and folds into a nice compact package. The Schacht Sidekick spinning wheel is a scotch tension wheel that offers long, comfortable treadles. The drive wheel spins on ball bearings, and the wheel weighs only 13 pounds. When folded, the bobbins, flyer and w
horls store inside the frame of the Sidekick spinning wheel to make it even more compact. It folds to to 21 1/2" h x 8 1/4" w x 15" d.
The Schacht Sidekick comes complete with three bobbins, 2 whorls (Ratios:9, 11, 13 and 15.5.) threading hook, adjustable carrying strap and instructions.
The bobbins and flyer of this spinning wheel are interchangeable with the Schacht Ladybug and Matchless. So if you already have either of these wheel you can also purchase the Schacht Sidekick without flyer and bobbins (You will have to use the one from your Ladybug or Matchless)
FREE Shipping
The Schacht Sidekick Spinning Wheel usually ships within 30 days
.
Watch this Video and find out more about the Schacht Sidekick Spinning Wheel
| | |
| --- | --- |
| | |
| Let Jane Patrick show you more about the Schacht Sidekick spinning wheel | |
The Schacht Sidekick Spinning Wheel usually ships within 30 days.
Schacht Sidekick spinning wheel manual
Schacht Sidekick Bag
Check out the new padded Sidekick Bag! It is just the thing to easily take your Sidekick Spinning Wheel with you. Made of rugged recycled polyester fabric with a heavy-duty zipper and bound interior seams, the Sidekick Bag is designed to fit your Sidekick Spinning Wheel safely and snugly inside. There's ample room, too, for 3 bobbins and our Collapsible Lazy Kate. Available in Burnt Orange or Olive Green.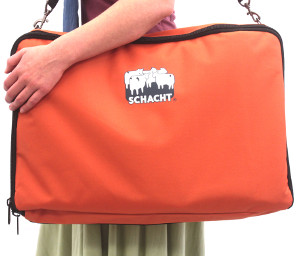 Additional whorls, optional Bulky Flyer Package and Lazy Kate can be ordered below
Schacht Bulky Plyer Flyer Head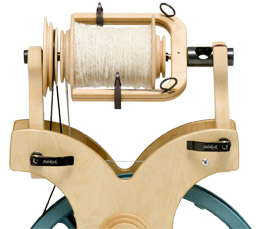 Add plying and bulky yarn spinning capabilities to your Sidekick Spinning Wheel. Features include a generously-sized 7/8" orifice, large capacity bobbin (about 8 ounces), sliding flyer hooks with incremental stops, and large round guide hooks. The Bulky Plyer Flyer comes with its own special front maiden, bulky flyer, and one bulky bobbin. The regular, travel, and high speed Schacht bobbins fit on the bulky flyer shaft, so you don't need to change flyers to use your existing bobbins.
Schacht Whorls for Matchless, Ladybug & Sidekick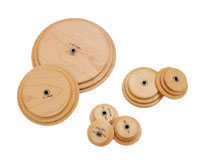 The type of fiber you are spinning and the kind of yarn you want to produce will determine which flyer whorl to use. Choosing a compatible whorl for the task at hand will go a long way in helping you comfortably create the yarn you want.
Your spinning wheel comes with two flyer whorls: a Medium Speed Whorl with 9:1 and 11:1 ratios and a Fast Speed Whorl with 13:1 and 15 1/2:1 ratios. We offer five others, which are specified in the chart below. The general rules to remember are: the larger (slower) the whorl, the thicker the yarn, the less the twist, and the greater the take-up. It is also important to remember that, in the double drive mode, depending on how much or how little tension you put on the drive band, you can increase or decrease the take up. In the Scotch Tension mode the amount of take-up is controlled by the amount of tension you put on the brake spring & cord. The greater the tension, the greater the take-up.
Schacht Tensioned Lazy Kate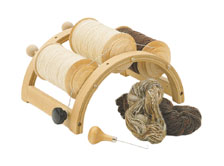 Schacht took physics to heart when they designed this Lazy Kate. It's built low to the ground (no tipping over during plying), has a unique tensioning feature (no more bobbin back-spinning during plying), and accommodates up to three bobbins. It can be easily disassembled, making it easy to transport or pack -- no tools required! The Schacht Lazy Kate can be used with other spinning wheel bobbins up to 7" in length. Bobbins sold separately.

You may also like the following: