Schacht Matchless Spinning Wheel
Schacht Matchless Spinning Wheel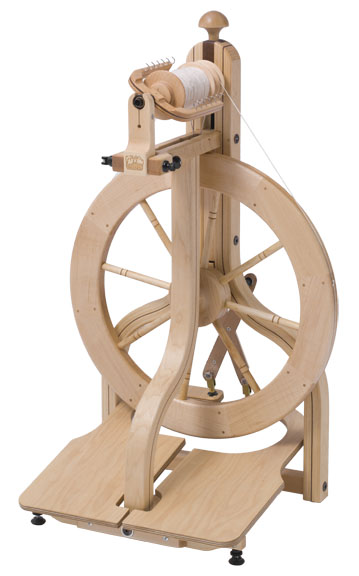 The Schacht Matchless is the original Schacht spinning wheel. Whether you choose single treadle or double treadle action, you'll appreciate the wheels' matchless capabilities. The Schacht Matchless Spinning Wheel offers double drive, Scotch tension, and bobbin lead modes of operation. Wheels come with two flyer whorls (Ratios: 9, 11, 13 and 15.5. ) you can also purchase five additional whorls with ratios from 4:1 to 27.5:1. The 19 1/2" drive wheel and flyer shaft are supported by self-aligning bronze bearings for precise action. Each flyer is individually balanced and the bobbins and flyer whorls are trued on
center for long and superior service.
Also included with the Schacht Matchless spinning wheel are four bobbins, a tensioned lazy kate shown below), threading hook and instructions. Solid Maple constructions with walnut accents.
The Schacht Matchless Spinning Wheel is the most responsive spinning wheel available today. Whether you choose single treadle or double treadle action, you'll appreciate this wheels' matchless capabilities.
The Schacht spinning wheel is almost fully assembled, just snap in the treadle are you are done!
FREE SHIPPING
The Schacht Matchless Spinning Wheel usually ships within 30 days.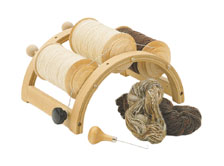 Schacht Matchless Spinning Wheel Accessories
Schacht Spinning Wheel Cart for Matchless
This is the neatest way to travel with your Schacht Matchless spinning wheel. Schacht used special hardware in the spinning wheel legs for quick attachment and removal of rubber wheels. A wooden block inserted under the tension knob holds it in place and transforms the knob into a sturdy handle. The Schacht spinning wheel cart can be added at any time.
Schacht Bulky Plyer Flyer Head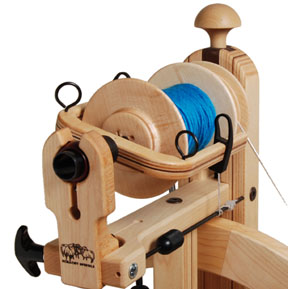 Add plying and bulky yarn spinning capabilities to your Matchless Spinning Wheel. Features include a generously-sized 7/8" orifice, large capacity bobbin (about 8 ounces), sliding flyer hooks with incremental stops, and large round guide hooks. The Bulky Plyer Flyer comes with its own special front maiden, bulky flyer, and one bulky bobbin. The regular, travel, and high speed Schacht bobbins fit on the bulky flyer shaft, so you don't need to change flyers to use your existing bobbins. For Matchless wheel made after 01/19/12. If you have an older Matchless and would like this flyer please call us.
You may also like the following: