Rigid Heddle Looms
Rigid Heddle looms are easy to use even for beginning weavers. Check out the Ashford Knitters loom, Ashford Sampleit loom, Kromski Harp Rigid Heddle loom, or the Schacht Cricket loom. You can warp these easy to use weaving looms in an hour or so and start weaving your first project. More information below.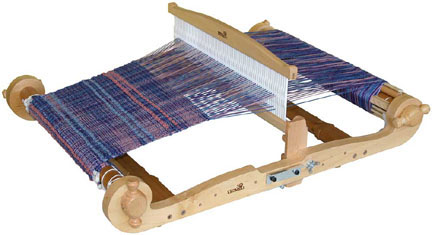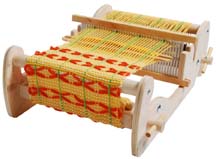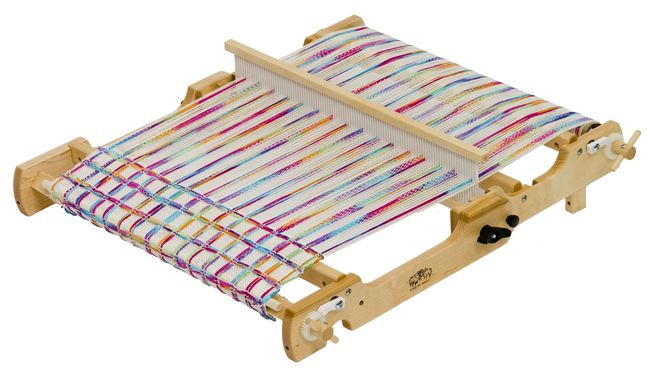 About Rigid Heddle Looms...
Rigid Heddle looms are perfect for beginners weavers. They are simple, easy to weave on and fast to warp and compact enough so you can weave anywhere! So if you are thinking about learning to weave, a rigid heddle loom is a great place to start. .
Want to take your rigid heddle weaving even further? Add a stand or a second heddle kit for your loom and you can weave even more patterns! With a floor stand you will be able to use your rigid heddle loom anywhere you like. Happy Weaving!
How I learned to Weave
They say one thing leads to another and so my growing hand spun yarn stash demanded that I learn how to weave. NOW!
My first thought was to start with a table loom: four harness, lots of pattern possibilities but not the big price tag of a floor loom.
So I bought a table loom. Big mistake! I had never woven before, and was not able to take a class. Warping seemed horrendous, and my woven items resembled rags more than scarves I was intend of producing. I just gave up, was definitely done with weaving and sold my loom.
After a few month, and me whining about "why can't I weave" and "I want to weave, stupid loom etc.", I finally gave weaving another shot and bought an Ashford rigid heddle loom. That was the beginning of my love affair with weaving. The set-up was so easy, my warp tension was better, everything was just simpler. So I wove, one piece after another, crooked sides getting a bit better, and finally pretty good so that they earned the name "selvedge". I wove throws, scarfs, pillows on my rigid heddle loom and I was so hooked.
And I wanted more. My next loom was a Leclerc four harness floor loom, and what do you think happened? My weaving was so much better than on the table loom before, since I have had "basic training" on my rigid heddle. Already knowing the basics and learning new things one project at a time, I was just thrilled.
And I wanted more (again). Weaving bliss came to me in form of my Louet countermarch loom. My lovely eight harness Louet Spring, I will have to name you one day. This countermarch loom is so easy to treadle and the built in raddle and back to front warping makes my warps almost perfect.
In hind sight there was nothing wrong with getting a table loom as a first loom, it was just me and the fact that I did not have any help in form of classes or lessons.
Weave on in Happiness and Health, Bridget :-)