Louet Spring Loom
Products > Weaving Looms and Accessories > Louet Looms > Louet Spring Loom
Louet Spring Floor Loom, 35", 8 or 12 Harness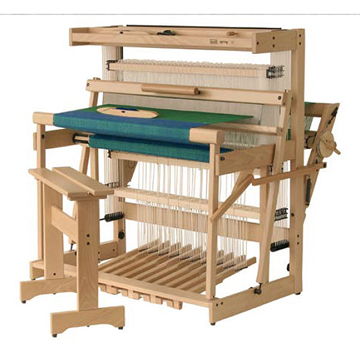 My favorite loom! The Louet Spring loom is one of the most innovative cleverly designed floor looms on the market today. It uses the Parallel Countermarch System.
What does that mean? For one, eeeeasy treadling, perfect warp tension and super wide shed! Read more about the advantages of a Louet Spring Countermarch loom further down the page, and yes, I have one and love it!

An exclusive feature of the Louet Spring loom is the patented moving breast beam controlled by springs. The moving breast beam allows for exactly the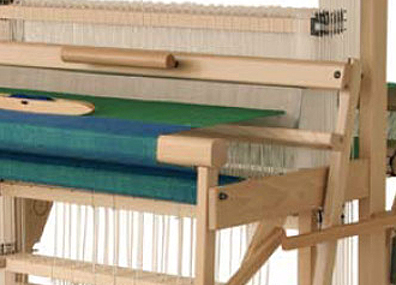 same warp tension each time the warp is advanced.
The advantages of this system are especially useful when you near the end of the warp. Even when the end of the warp is very close to the harnesses, a good shed can be made, saving yards and yards of wasted warp over the life of your loom.
This Louet Spring loom includes a built-in raddle on top of the castle (super easy to use for back to front warping) and a tool shelf for keeping everything you need within easy reach. The Louet Spring loom comes standard with 8 harnesses and 10 treadles, but gives the possibility to add 4 harnesses later.
The heddles and tie-up cords are of the Swedish Texsolv system that are strong and quiet when you weave. The Louet Spring loom is available in two weaving widths 90 cm (36") or 110 cm (43"). It comes standard with 600 Texsolv heddles (35" loom) or 800 Texsolv heddles (43" loom), a stainless steel 10 dent reed, friction brake, 2 lease sticks and 16 warp sticks. The Louet Spring is made of kiln dried lacquered beech and comes partially assembled with clear instructions and tools.
FREE Freight on all Louet Floor Looms within the continental US.
Louet Spring Loom Bonus! Choose one

!
A word about Louet Spring Loom Delivery
Please note that this Louet loom is built to order. Delivery time can range from one week to 12 weeks, since all Louet loom are built in Holland. We will charge your card half of the price when you order this item and charge the second half once we receive shipping information. If you pay with PayPal the entire amount is charged. This loom is shipped per freight directly to your home FREE of charge. (Alaska and Hawaii excluded, please contact us for a shipping quote. Canadian customers will have to pay tax)
Four Harness Extension for Louet Spring Looms
Convert your 8 harness Louet Spring loom to a 12 harness loom. This kit adds four additional treadles so you will have 14 instead of 10 that come with your loom. Please note that additional heddles are not included with the extension.
Second Back Beam for Louet Spring Loom
Second back beams are sometimes also called double back beams. They are useful when weaving with yarns that have different fiber content or require different amounts of tension. Examples are seersucker, pique or supplementary warps.
Sectional Warp Beam Kit for Louet Spring Loom
Sectional warp beam kit with 1" spacers.
Learn more about the Louet Spring, Octado or Megado dobby loom by watching these videos that show you how to warp and weave on these looms
"...I love my Spring loom. I have had if for two years and would never weave on my old loom again. Treadling is just that easy." Olivia Johnson
" ...Waiting on my loom to arrive was hard but worth it. The Spring loom is quiet and the shed is great" Cindy McGrath
How I love my Louet Spring Loom, let me count the ways...
So I guess I am totally in love with my Louet Spring loom. Easy treadling, generous wide shed and the right tension after advancing the warp are simply great features. Add to that the built-in, low profile raddle and you are in weaving heaven. (or at least I am)
Yes, because this is a countermarch loom there are more tie-ups to make, but because it is a parallel countermarch you only have two lengths of strong texsolv tie-ups and you do not have to fiddle adjusting these on any harness to get a good shed. You will have a perfect shed any time. The Louet Spring loom is simply a superior all around loom that will take you from weaving superfine silk threads and fragile wools to inelastic heavy linens.
Happy Weaving, Bridget