Louet Delta Loom
Products > Weaving Looms and Accessories > Louet Looms > Louet Delta Loom
Louet Delta 110 43" Floor Loom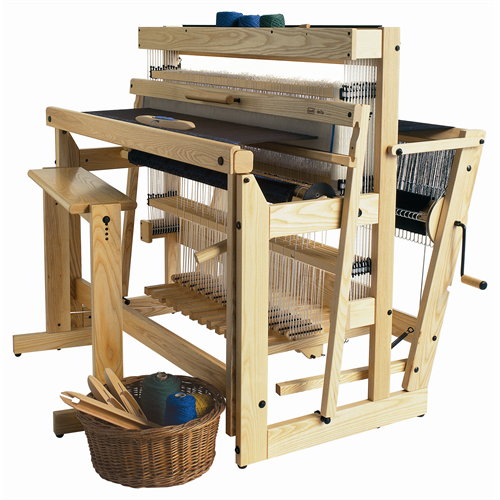 Are you a tall weaver? The Delta is a modern parallel counter march loom perfect for taller weavers or weavers looking for a loom with back hinged treadles. The Delta is easily recognizable as the head of the Louet line of floor looms. It is comfortable, robust and technologically advanced, but above all a weaver's loom. Warp tension can be adjusted by fine increments to insure the tension is just the way you want it. The floating breast beam insures tension is returned to exactly the same tension as you had before you advanced the cloth.

Tie ups are easy. Every treadle is tied to every harness which means you only have to depress one treadle at a time. All treadles work the same way across the full width of the loom because of the parallel system. The Delta's treadles are hinged from the back allowing for a very light weight treadling action. Also, all lams are horizontal which makes changing tie-ups quick and easy. For individual comfort, blocks are available to adjust treadle height.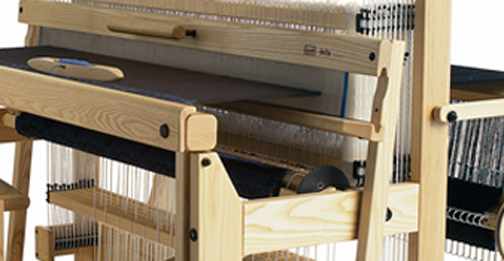 Harnesses are adjustable to allow you to create slack in the heddles for easier threading and to tighten them for weaving
The Delta floor loom is made of plantation grown ash and is finished with a double coat of clear semi-gloss lacquer. The Delta 110 has a weaving width of 110cm (43 3/8").
The Louet Delta 130cm has a weaving width of 51". Both looms come equipped with a built-in raddle and shelf, stainless steel reed 40-10 (metric), 1200 (Delta 110) or 1400 (Delta 130) Texsolv heddles, tie-up and lease sticks and 16 warp sticks.
Are you a tall? The Louet Delta is a robust loom built with the taller weaver in mind. A full leg extension is possible when treadling and this makes this floor loom ideal if you are 6' or taller. If you are shorter you can get treadle block to makes weaving on this loom easier for you. (please contact us)
FREE Freight on all Louet Floor Looms within the continental US.
Four Harness Extension for Delta Loom
Convert your 8 harness Delta loom to a 12 harness loom. This kit adds four additional treadles so you will have 14 instead of 10 that come with your loom. Please note that additional heddles are not included with the extension.
Second Back Beam for Delta Loom
Second back beams are sometimes also called double back beams. They are useful when weaving with yarns that have different fiber content or require different amounts of tension. Examples are seersucker, pique or supplementary warps.
Sectional Warp Beam Kit for Delta Loom
Sectional warp beam with 1" spacers.
Please note that this Louet loom is built to order. Delivery time can range from one week to 12 weeks. We will charge your card half of the price when you order this item and charge the second half once we receive shipping information. This loom is shipped per freight directly to your home FREE of charge (Alaska and Hawaii excluded, please contact us for a shipping quote.
Learn more about the Louet Spring, Octado or Megado dobby loom by watching these videos that show you how to warp and weave on these looms