Kromski Harp Forte Rigid Heddle Looms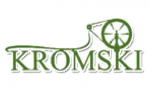 Kromski Harp Forte Rigid Heddle Loom
The Kromski Harp loom is now called the Harp Forte! The Kromski's have implemented a new ratchet an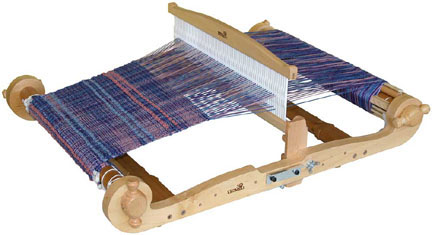 d pawl system that uses metal parts and rare earth magnets for tension on your warp. In light of this change they have blessed the loom with a new name: the Kromski Harp Forte.
Rigid heddle looms are easy and fast to set up and you will be weaving in no time. The Harp Forte loom folds for easy transport with your weaving attached to you can take it anywhere.
Best of all, you will not need any other accessories (except yarn) to start weaving right away.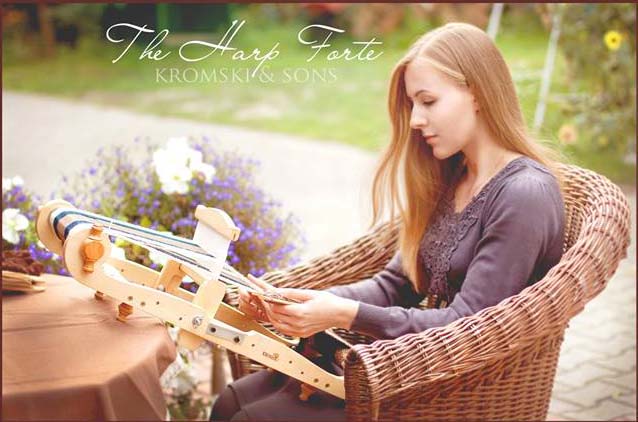 Your Kromski Rigid Heddle loom comes with everything you need to get started except yarn: a 8-dent heddle, 2 stick shuttles, a pick-up stick, threading hook, 2 clamps, a warping peg, warping board pegs and the very helpful "warp helper".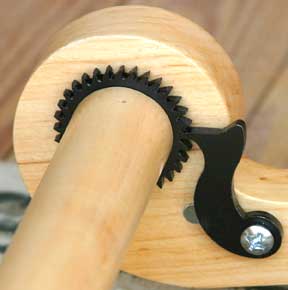 The Kromski Harp Forte loom also has a "Built-in" warping board: turn over the loom , insert the provided pegs, and you can wind your warp. You can also take your rigid heddle loom with you to classes or on vacation since it folds with your weaving attached and fits neatly into an optional tote bag.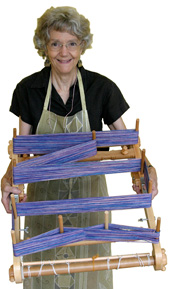 This highly functionally rigid heddle loom is crafted from European alder wood with a clear finish, lots of curves and turned pieces. Available in these sizes: 8". 16", 24" and 32".
Shown to right: 16" Kromski Harp flipped around to the back and used as a warping board with warp wound onto it.
With the move to metal parts you can set the tension to a higher setting that may be needed for some of your projects. Whether the tension is slight, moderate or high, the rare earth magnet keeps the ratchet and pawl engaged automatically.
Please note that the 32" Kromski loom reed does not have the curved wood frame shown above, but a straight wood frame.
The Kromski tote bag, extra heddles, extra heddle blocks (for more complex weaving) and stands are available separately below.
Kromski Harp Forte Loom Stand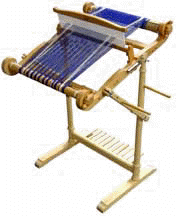 If you do not want to weave on your Kromski Harp or Harp Forte loom with the back end propped against a table edge, try the loom stand. This will allow you to weave wherever you like! With this stand you will be able to adjust the weaving angle of your loom so that it is a perfect fit for your height. All the pieces have been turned so there is shape and contours to everything. Your warping pegs (these come with the loom) can be used as pegs on either side of the loom to hold shuttles, yarn or to keep other supplies handy.
The remaining pegs can be conveniently stored at the back of the loom, so that they do not get lost. Use the stand for weaving, but also for warping when using a warping peg, and for storage (your Harp can be folded on the stand so it takes up less space). We are sure weavers will find even more ingenious ways to use the Harp floor stand.
Kromski Harp Forte, Rigid Heddle Loom Bags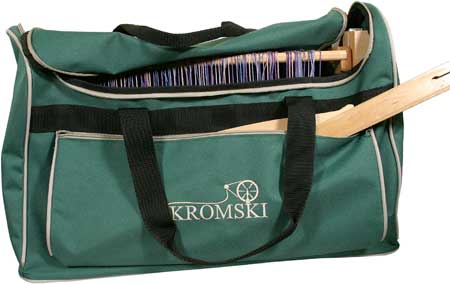 Because the Kromski Rigid Heddle Loom conveniently folds (with your warp and project in place), why not put it in a tote bag for easy storage or travel. The bags are made of poly-canvas and feature canvas handles and a shoulder strap.
The base of the tote is reinforced to provide sturdy support of the loom.
There is plenty of room for stick shuttles, pick-up sticks, warping equipment, clamps and your weaving yarns.
Kromski Harp-Forte Upgrade Kit
Change out the plastic ratchets and paws on your Kromski Harp loom for metal ones and presto, you have the Kromski Forte. Metal ratchets allow for high tension, no other rigid heddle loom offers.
Kromski Fiddle Rigid Heddle Loom
If you are looking for a basic rigid heddle loom, the Kromski Fiddle loom will fit the bill. Great for your first try at weaving, for kids and more.
The Kromski Fiddle loom, at 16" weaving width, will do everything the Harp will do in terms of weaving, it is just simpler built and unfinished. The Fiddle loom comes with a 8-dent heddle, 2 stick shuttles, clamps, a modified Warp Helper, warping peg and a threading hook. You can also add the following options to your Kromski Fiddle loom: additional shuttles, ick-up sticks, heddle blocks (to allow the use of 2 heddles) and The Harp stand (above). The Fiddle loom also comes ready for use as a warping board (pre-drilled holes on the back of the frame) - you can purchase the pegs for this purpose or make your own.
The loom is unfinished and partially assembled. You may finish the wood but it is not necessary. Assembly is easy (instructions included) and takes about 30 minutes.
This item has been discontinued by Kromski
Kromski Harp Forte, Rigid Heddle Loom Reeds

Your Kromski rigid heddle loom comes with an 8 dent rigid heddle reed (as of January 1st 2014), if your loom is older than this date your loom came with a 10 dent reed. Other rigid heddle reeds are available below. For Schacht reeds please check the Schacht page. Kromski reeds also fit Ashford rigid heddle looms and the other way around. If you are planning on using two reeds at the same time you will need them to be of the same dent size and you will need Kromski Second Heddle Blocks to hold the additional reed.
Kromski Weaver's Choice Heddle

The Kromski Weaver's Choice Heddle (WCH) opens up endless opportunities for creative weaving. You are no longer confined to a single size warp yarn for the entire width of their weaving project. With the Kromski Weaver's Choice Heddle, the weaver chooses every single dent size just the way you like it!!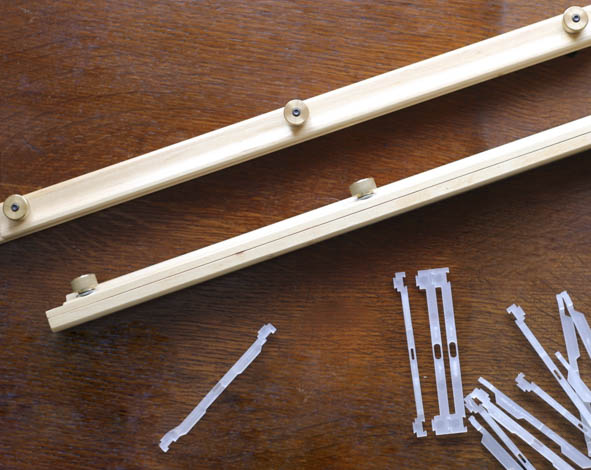 With the ability to use bulky yarns right alongside lightweight fingering yarns in the same project, the weaving possibilities are limitless! Each Kromski Weavers Choice Heddle comes with the following heddles:
For 8" Loom - Total of 80 pieces: 20 each 5dpi, 8dpi, 10 dpi, 12dpi
For 16" Loom - Total of 160 pieces: 40 each 5dpi, 8dpi, 10 dpi, 12dpi
For 24" Loom - Total of 240 pieces: 60 each 5dpi, 8dpi, 10 dpi, 12dpi
For 32" Loom - Total of 320 pieces: 80 each 5dpi, 8dpi, 10 dpi, 12dpi
Kromski Extra Heddle Pack for Weavers Choice Heddle
(above)
Add-on pack of extra heddle pieces for the Kromski Weaver's Choice Heddle above. Pack has 20 pieces each of the following dents: 5dpi, 8dpi, 10dpi and 12 dpi.
Kromski Stick Shuttles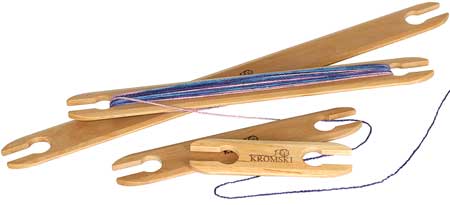 Nicely lacquer finished stick shuttles to accompany your loom. You will want more than just one or two!
Kromski Second Heddle Block
A Kromski second heddle block set will allow you to weave more complex designs. In addition to the blocks you will also need two of the same dent reeds. For all sizes of Kromski rigid heddle looms. Set of two blocks
Kromski Warping Sticks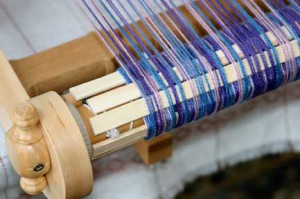 A simple weaving tool, but one that is sure to give your weaving the key to a perfectly tensioned warp. It is easy to use, as you wind your warp on the rear beam use our warp sticks to create a strong foundation that will support your warp from side to side and from one end to the other. Always tension your warp very tight as you wind on. This can only be done correctly with a two person team. Slip in a couple of warp sticks every 2-3 rotations, alternating the position so that the next layer does not sit directly on the previous layer.
A dozen stick will handle 2-3 yard warps, and consider two dozen for longer warps. You can never use too many, and you surely do not want to skimp. They have a width and thickness just right for the Harp. Sold bye the dozen.
Learn to weave with these Kromski videos. Watch video 1 for warping using the built-in warping board on the Harp loom. Watch video 2 if you are using the warping peg. Video 4 shows you how to dress the loom (get is ready for weaving). In video 4 you will learn weave on the Kromski rigid heddle loom
Winding a warp on the built-in warping board

Warping with the warping peg

Dressing the loom

Weaving with the Kromski Rigid Heddle Loom

Log Cabin Pillow

Check out this easy to weave pattern. It's perfect for beginning weavers and rigid heddle looms. This simple "log cabin" variation is easy to weave. Simply warp your loom with two alternating yarn colors of your choice

.

This weaving project is for two pillows so we used a wool yarn, (Nature Spun Worsted in Ash and Snow).

Once the warp in on the loom thread the heddle light, dark x 7, then alternate dark, light x 3. Your repeat is a total of 20 threads. Weave the same way. That's it.
About Kromski Spinning and Weaving Products...
The Kromski's have been wood turners and wheel workers for three generations. In 2000 they began a new facet of their business - exporting their products to the rest of the world. In 2002 an innovative line of rigid heddle weaving looms was added. The Kromski rigid heddle looms are easy to use, even for beginners, and easy to take along! Here are some Rigid Heddle loom FAQs that you might find helpful.
New to Weaving? Don't know where to start? We can help! We can answer all weaving and loom questions you may have and find out which loom is right for you. 503-538-4741
You may also like...
| | | | |
| --- | --- | --- | --- |
| | | | |
| Ashford Rigid Heddle Loom | Weaving Accessories | Nature Spun Yarn | Weaving Books |