Knitting Books
Getting Started Knitting Socks, Ann Budd
From cast-on stitches to binding off, Getting Started Knitting Socks details the simple steps needed to turn seemingly complicated sock knitting projects into easy and enjoyable activities. Helpful photographs and instructional drawings ensure that even inexperienced knitters will be able to produce high-quality socks and handle more complicated techniques, such as the Kitchener stitch at the toe. Using instructions for five different sizes—from child through adult large—at five different gauges, knitters can produce styles ranging from delicate dress socks to thick and furry slipper socks. More adventurous knitters can add variety and flair by following one of 16 unique designs or trying one of the dozens of rib, cable, and lace patterns provided. Getting Started Knitting Socks offers plenty of tips and a handy stitch dictionary, this guide unleashes the creativity and fun of sock knitting.
Easy Knitted Socks
Fun and Fashionable Designs for the Novice Knitter. Knitting socks has never been so easy! Easy Knitted Socks starts with an introduction to the tools and techniques that clearly demonstrates all you need to know to start knitting socks including, how to hold the yarn; holding needles- two needles, three needles, circular needles; how to shape and do short rows; and how to bind off. The patterns include, top-seam sock, beaded Argyle sock, basic four needle 4-ply sock, stripe and lace sock and even ribbed leg warmers. From the novice to the expert to the twenty- something knitters who have embraced knitting socks.
Knitting Circles Around Socks

Knit Two at a Time on Circular Needles. Why knit one sock and then start all over again to make a match? Instead, knit two socks at the same time on two circular needles! With this creative approach, your socks will always match and you can slip a sock on each foot as soon as you bind off.
ColorSense
Creative color Combinations for Crafters. Learn how to combine colors for stunning effects. Thousands of tried and true color combos are showcased based on recognized rules of color theories. The perfect recourse for crafters and do-it-yourselfers to find the perfect color for projects! Color Sense includes clear and concise introduction to color theory including thousands of color combos in varying values and different backgrounds, and a color wheel and color swatches with pop-out templates.
Favorite Socks, 25 Timeless Designs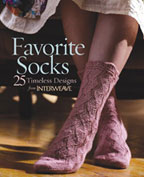 Socks are a pleasure to create, easy to carry in the knitting bag and 0h-so-cozy to wear. In Favorite Socks, renowned sock designers including Nancy Bush, Ann Budd, Priscilla Gibson-Roberts and Evelyn A. Clark showcase their style in an inspiring collection of classic and innovative sock patterns.
Spin to Knit
Take your knitting to a new level with the addition of handmade yarn! Spinning is easy to learn, handspun yarn is hot , and with Spin to Knit everything you need to create fun, funky, one-of-a-kind designer yarn is right at your fingertips. Spin to Knit teaches you all the details about fibers, tools, and materials for getting started spinning, and offers a substantial selection of simple patterns for knitting with that fabulous yarn you've created all on your own. Urban spinner Shannon Okey, answers all your burning questions about spinning basics. For instance, what fibers are good for close-to-the-skin projects, what's good for layering, and what on earth can you do with dog fur or recycled fabric? Find out the basic tools you need to get started spinning, whether you should begin with a drop spindle or a wheel, why "lumpy bumpy" yarn is your friend, ways to un-lump your yarn, and how to control singles, twist, and ply.