John Day Inkle Loom
Products > Weaving Looms and Accessories > Small Looms > John Day Inkle Loom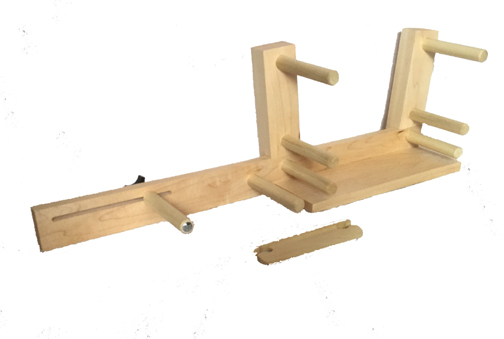 Weave colorful bands on an Inkle loom! Inkle looms are easy to learn to weave on and great for workshops or classes. The John Day inkle loom is versatile and fun to weave with!
You can weave warp faced belts, cell phone cases, small bags, bands, guitar straps, ribbons, trims, edgings and more! By choosing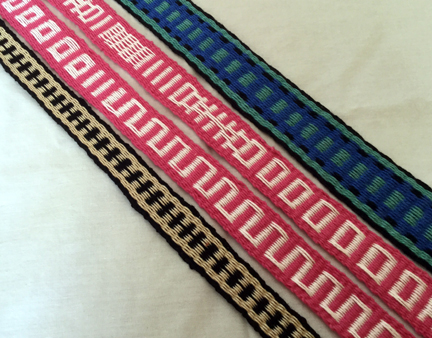 your own colors and designs you can weave infinite variations of warp faced patterns.
An inkle loom is a must have for every weaver. Weave bands up to 4" wide and up to 8.5 feet long. Adjustable tension. Solid maple or birch construction with tung oil finish. Complete with belt shuttle and instructions. Made in Oregon.
Examples of simple inkle loom bands shown to right. More complex patterns as well as basic instructions about inkle weaving can be found in The Weaver's Inkle Pattern Directory.
John Day Belt Shuttle

Johns Day belt shuttle for all brands of Inkle looms or back strap loom. Poplar hard wood with tung oil finish
What is Inkle Loom Weaving?
Inkle weaving is a type of warp-faced weaving where the shed is created by manually raising or lowering the warp yarns, some of which are held in place by fixed heddles on a loom known as an inkle loom. It was brought to the United States in the 1930s, but predates this by many centuries in other countries. The term "Inkle" simply means "ribbon" or "tape".
You may also like...
h4 this is a test