Gems Merino Yarn
GEMS merino yarn from Louet is super-soft and feels wonderful. Best of all it is machine washable. Gems merino is a Fingering Weight Yarn and 100% Merino. It is worsted spun with a tight twist to minimize pilling while maintaining a high elasticity. The yarn is then steamed for the softest touch.
Superior for fine knitting, lace shawls, light sweaters, comfy socks and baby wear. This high quality merino yarn has excellent stitch definition and 185 yards per 50g skein. Gems Merino yarn skeins are $9.95 each
Gems merino yarn is great for the Estonian Garden Shawl, the Leaf Lace Shawl, or Flower Basket shawl patterns below. It takes only 5 skeins of this lovely merino yarn to knit either fun shawl. Gems Pearl yarn has a nice hand and drape and superior quality and stitch definition. Other colors can be special ordered in bags of 5 skeins.
Flower Basket Lace Shawl & Scarf
designed by Evelyn A. Clark.
Knit from the center back neck down, ending in a simple scalloped edging. Instructions given for four weights of yarn (lace, fingering. sport and worsted) and three sizes, so you can customize the Flower Basket pattern to your needs.
This knitting pattern use 4 or 5 skeins of Gems merino fingering weight yarn for a medium shawl.
Fiber Trends Estonian Garden Wrap & Scarf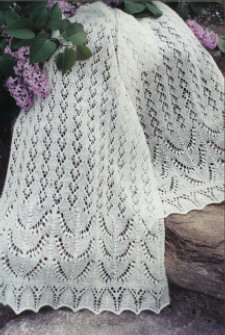 designed by Evelyn A. Clark.
Yes! We know you love gorgeous lace!!! Traditional Estonian lace stitches create a garden with rows of small flowers bordered by lily of the valley and edged in a scalloped trellis. Lace weight yarn. Knitting instructions are written and in form of a chart as well.
Wrap: 19" x 66", 848 yards lace weight yarn. Scarf: 10" x 66", 485 yards lace weight yarn.
Size 5 needles, gauge 5.5 stitches per 1". Alternate yarn recommendation calls for fingering weight yarn. Knit this wrap in Merino Gems Pearl yarn. You will need 5 skeins of Merino Gems fingering weight yarn for the shawl, in the color of your choice.
Louet Gems Merino yarns are high quality and offer superior stitch definition. This fine merino yarn is machine washable and ideal for all garments that need to be soft and easy to care for at the same time! Gems merino yarn means quality yarn.