Felting Books
The Ashford Book of Needle Felting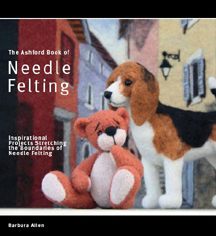 Explore the unlimited potential of needle felting with the Ashford Book of Needle Felting. Create your own adorable figures, beautiful flowers and scenes, striking jewelry and embellishments all in flat or sculpted felt. With just a little wool, a felting needle and this book you can create unique, beautiful felted works of art. If you haven't tried needle felting, here is a book to inspire you. The Ashford Book of Needle Felting explains and illustrates all the techniques, materials and equipment needed. For each project there are step-by-step instructions and full color photographs of each process. The Ashford Book of Needle Felting offers projects for beginners and skilled felters and each project builds on the knowledge gained. The book provides all the pattern templates for the projects. 112 pages.
Little Felted Animals
Cute! Little Felted Animals shows you how to create 16 Irresistible Creatures with Simple Needle-Felting Techniques. Create your own menagerie of adorable miniature animals with this completely irresistible collection of projects with Little Felted Animals. Using simple needle felting techniques, basic tools and some wool roving. Little Felted Animals shows how to transform fluffs of wool fiber into crazy-cute critters that will melt the heart. Sixteen projects span old favorites such as dogs, cats, mice and birds to the more elusive fox, baby seal, brown bear, and penguin. You won't be able to urge to bring every one to life. Cute, cute, cute!!
Felting Supplies Natural Fibers for Felting Dyed Fibers for Felting