Ashford Electric Spinner 2
Products > Spinning Wheels > Ashford Spinning Wheels > Ashford Electric Spinner 2
Ashford Electric Spinner 2-
Check out the Ashford e-Spinner! If you are planning to spin large amounts of yarn, perhaps from your own fleece, or if you have trouble treadling, the Ashford Electric Spinner 2 is your best choice.
This Ashford electric spinning wheel is very easy to use, compact and portable. No treadling, just let this spinner do the work for you, All you have to do is draft the fibers. The quiet, direct drive 12V motor lets you spin a variety of yarns, anything from fine, medium or thick and chunky
yarns. Forward and reverse variable speeds.
And because it is so compact it can travel with you wherever you go.
The Ashford Electric Spinner 2 comes complete with a sliding jumbo hook flyer, 3 large jumbo bobbins and lazy kate with yarn guide, power pack and four interchangeable power plugs for US, Europe, Japan and New Zealand. Threading hook and instructions included. Lacquer finish beech wood.
You can also purchase a 12 V adaptor separately so you can spin in your RV or car.


Solid Silver beech wood. Assembled & lacquered. Orifice diameter is 1.5cm (5/8"), Motor 12volt DC 1.25amp
Speed 0-1500rpm, Bobbin capacity 225g (8oz)

Power supply 110 or 220 volts, Weight 2.8kg (6lbs)
Find out what the manufacturer Ashford Handicrafts has to say about their new Ashford Electric Spinner 2.
This item is no longer available
Ashford Electric Spinner 2 Accessories


Ashford Electric Spinner 2 - 12 V Adaptor Cord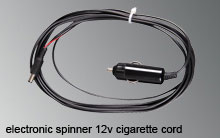 Get your Electric Spinner off the grid. With this 12 V adaptor you can spin just about anywhere.
Ashford Foot Controller for Electric Spinner
Conveniently control your Ashford Electric Spinner. On/Off switch for Ashford Electric Spinner. For newer machines only. Please check the back of your machine to make sure it has a plug that is marked "Foot Switch" before ordering.
You may also like the following:
Need help choosing a spinning wheel?
Check out our spinning wheel tips or give us a call!
503-538-4741. We can help!